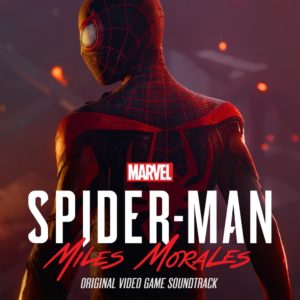 Het jaar 2018 was geweldig voor video game soundtracks, vooral als je van orkestrale muziek houdt. Bear McCreary's God of War was een van mijn favorieten en bevatte, het beste nummer van 2018 voor mij. De beste volledige soundtrack van dat jaar was echter Marvel's Spider-Man van John Paesano, zoals terug te lezen is in mijn Favorieten en terugblik op 2018. Niet alleen de soundtracks zijn fantastisch, ook de spellen zelf worden als zeer goed beschouwd. Terwijl een vervolg op God of War alleen nog maar is aangekondigd, is er al wel een nieuwe Spider-Man uitgebracht. Marvel's Spider-Man: Miles Morales is geen volledig vervolg, maar een kleiner spel dat veel elementen uit het eerste Spider-Man-editie hergebruikt en waar Paesano wederom de muziek voor heeft geschreven.
Zoals de titel Marvel's Spider-Man: Miles Morales suggereert, gaat het spel over iemand genaamd Miles Morales: een andere Spider-Man die New York moet verdedigen, terwijl Peter Parker, de Spider-Man uit het eerste spel, een tijdje naar het buitenland moet. Morales heeft dezelfde Spider-Man krachten als Parker, maar met wat extra's die Parker niet bezit. Hij is ook een ander persoon, want Morales is nog maar een tiener in het spel en is van buitenlandse afkomst, terwijl Peter Parker een volwassene is, geboren in een traditioneel Amerikaans gezin.
Een van de sterke punten van de eerste soundtrack is het prachtige hoofdthema dat Paesano voor Peter Parker's Spider-Man heeft geschreven. Zoals verwacht heeft dit nieuwe, kleinere spel ook een eigen hoofdthema en dat is in zijn volledigheid te horen in "Don't Give Up". Het feit dat Miles Morales een andere Spider-Man is, wordt goed weerspiegeld in het nieuwe thema. Het heeft dezelfde orkestrale en heroïsche inslag als het origineel, maar dan met een andere melodie. Een andere gemeenschappelijke eigenschap met de muziek uit het eerste spel is de integratie van het thema in de rest van de voornamelijk orkestrale muziek. Je hoort het op het hele album: grootse orkestklanken samen met melodische strijdmuziek, enkele hip hop-elementen – perfect voor Morales – en een handvol emotionele melodieën.
Het spel is korter dan zijn voorganger, maar dat weerspiegelt zich niet in de hoeveelheid muziek op dit album, met meer dan een uur aan nieuw materiaal. Als de muziek van Marvel's Spider-Man bevalt, dan vind je dit vervolg waarschijnlijk ook goed. De muzikale aanpak is voor beide spellen hetzelfde, maar met extra toegevoegde hip-hop-elementen om Miles Morales wat meer te vertegenwoordigen. Het is weer een uitstekende soundtrack, gecomponeerd door John Paesano en aangezien het spel een succes is, is een vervolg waarschijnlijk al in de maak. Hopelijk blijft Paesano betrokken voor opnieuw prachtige muziek.
Luisteren of kopen
Lijst van de nummers
De hoogtepunten zijn vetgedrukt.
Don't Give Up (4:10)
Rhino Rampage (4:05)
New York's Only Spider-Man (2:53)
Spider-Training (2:56)
Best Friends (5:16)
Be Yourself (4:18)
Confession (6:40)
The Underground (2:42)
Thicker Than Water (4:55)
On the Case (2:42)
All In (3:53)
Trying to Protect You (2:28)
We're Here for You (3:24)
Worst Enemies (4:07)
Make It Right (5:57)
Won't Give Up (2:21)
I'm Ready (door Jaden) (3:09)
Where We Come From (door Lecrae) (2:29)
This Is My Time (door Lecrae) (2:15)
Duur: 1 uur en 10 minuten
Hollywood Records (2020)