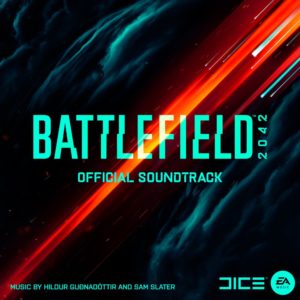 Je kent vast wel de beroemde rivaliteiten tussen twee grote bedrijven of franchises, waar bij je of voor de één of voor de ander bent – Pepsi vs Coca-Cola, Burger King vs McDonald's, The Beatles vs The Rolling Stones, enzovoort. Hetzelfde idee kan worden toegepast op militaire shooters, videospellen waarin twee groepen soldaten tegen elkaar strijden en waarbij de speler door de ogen van een van deze soldaten het spel beleeft. De twee rivalen in deze categorie zijn Battlefield en Call of Duty en van elke nieuw editie worden miljoenen exemplaren verkocht. Beide franchises hebben deze maand een nieuwe release gekregen, met muziek geschreven door componisten van naam. De muziek voor Call of Duty: Vanguard is geschreven door Bear McCreary en misschien zal ik die muziek later nog eens bespreken, maar het was de muziek voor Battlefield 2042 die mij het meest intrigeerde, omdat die mede geschreven is door niemand minder dan Oscarwinnares Hildur Guðnadóttir.
Guðnadóttir schreef de muziek niet alleen, maar kreeg hulp van Sam Slater, met wie ze al eerder heeft samengewerkt voor Joker en Chernobyl. Als je bekend bent met een van beide soundtracks, kun je je voorstellen dat er niet veel melodische en thematische ideeën in de muziek voor Battlefield 2042 te vinden zijn. De beste manier om de muziek te omschrijven, die Guðnadóttir en Slater hebben geschreven, is door een deel uit het persbericht te vertalen dat ik voor dit album heb ontvangen: "Dit is de eerste videogamescore van de tweevoudige Grammy Award-winnaars, die opnametechnieken op locatie en algoritmische vervormingen hebben gebruikt om een unieke auditieve ervaring te creëren". Dit betekent dat elk nummer veel drone-geluiden, percussie, willekeurige noten bevat, waarvan er waarschijnlijk veel zijn uitgevoerd op Guðnadóttir's halldorofoon, en meer unieke geluiden om een muzikale sfeer te creëren.
Wat alle Battlefield-spellen gemeen hebben, is het prachtige hoofdthema dat in het eerste spel Battlefield 1942 werd geïntroduceerd en is gecomponeerd door Joel Eriksson. In de meeste spellen is het thema vernieuwd en aangevuld. Voor Battlefield 2042 is het thema zwaar verbouwd, vervormd en gemangeld,zodat het nauwelijks herkenbaar is als je het niet goed kent.
Voor mij als recensent is het erg moeilijk om te bepalen of deze muziek goed is of niet. Er zijn waarschijnlijk veel mensen die deze muziek qua sound design en sfeer prachtig vinden, maar ik moest mezelf dwingen om naar het album te luisteren en het was voor mij onmogelijk om het volledige album in één keer aan te horen. De beste manier om de muziek van Battlefield 2042 te beschrijven is door te zeggen dat het interessante muziek is. Mijn proeflezers zeggen altijd dat ik dat woord nooit in mijn teksten mag gebruiken, maar ik denk dat het hier perfect bij past. Als ik naar deze soundtrack luister, is het eerste wat in me opkomt: "Huh, interessant" en als ik klaar ben met mijn luistersessie, ga ik gewoon verder met waar ik mee bezig was en zal ik niet meer aan deze muziek denken. Als je enthousiast van Guðnadóttir's muziek wordt, is deze score waarschijnlijk iets voor jou, maar ik ga liever naar iets anders luisteren.
Luisteren of kopen
Lijst van de nummers
De hoogtepunten zijn vetgedrukt.
Orbital (3:38)
The Observation of Beautiful Forms (3:50)
Irreversible (3:40)
Between the Bows (3:07)
Wall Jazz (2:04)
Load Bearing (3:11)
When does a country stop being a country? (3:36)
5 Degrees of Warming (1:56)
Hauled Over the Coals (2:00)
Wet Bulb (1:56)
Hourglass (3:05)
Shipping Forecast (2:30)
Tipping Points (5:59)
Battlefield 2042 (2:32)
Total length: 43 minutes
EA Music (2021)