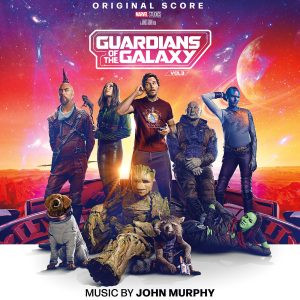 Ik heb elke Marvel-film in de bioscoop gezien. Aan die traditie kwam bijna een einde omdat ik Guardians of the Galaxy, Vol 3 bijna had gemist. Pas recentelijk was ik in de gelegenheid om de film in de bioscoop te bekijken. Ik ben blij dat ik dat heb kunnen doen, want ik luisterde al een tijdje naar de soundtrack en er vielen me een paar dingen op in de muziek waar ik het over wilde hebben.
Er zijn twee belangrijke redenen waarom ik over de score wil schrijven. De eerste is dat het derde deel van Guardians of the Galaxy is gecomponeerd door iemand anders dan Tyler Bates, die de muziek voor de eerste twee films heeft geschreven. De muziek voor de derde film is namelijk door John Murphy gecomponeerd, die daarmee zijn debuut maakt in het Marvel-universum. Met een andere componist krijg je ook een andere muziekstijl. Tyler's muziek was erg orkestraal, maar terwijl Murphy's muziek veel orkestrale elementen heeft, hoor je ook andere muzikale geluiden zoals elektrische gitaren, synths en het meest indrukwekkende aan deze score: de stem.
Tylers iconische thema voor de helden van Guardians of the Galaxy keert bijvoorbeeld terug in de muziek in "Guardians vs. Hell Spawn" en "I Love You Guys", maar de meeste muziek is nieuw. De nummers "Hooray Time Forever!" en "It Really Is Good to Have Friends" zijn briljante voorbeelden van Murphy's originele materiaal, met beide een geweldige opbouw. Deze nummers zijn niet de enige hoogtepunten. Guardians of the Galaxy is, door een stel bizarre superhelden, geen gewone actiefilm. Hoewel het merendeel van de muziek vrij serieus is, weerspiegelt bepaalde muziek die gekheid. "Orgoscope Elevator" is bijvoorbeeld een heerlijk over-the-top stukje liftmuziek dat, zoals Murphy tijdens de For Scores podcast heeft verteld, samen met zijn 14-jarige dochter is gemaakt.

De tweede reden voor mij om over de muziek voor Guardians of the Galaxy, Vol 3 te schrijven is het gebruik van de menselijke stem. Koor speelt een prominente rol in de score, maar er zijn twee nummers waarin de stem er bovenuit steekt. Het gebruik van bestaande liederen is gebruikelijk voor Guardians of the Galaxy-films en voor de derde film ruilen ze van nummers uit de jaren '80 om naar de jaren '90 en zelfs tegen het einde naar de jaren 2000. Er is één stuk in de soundtrack dat 300 jaar ouder is, namelijk Murphy's interpretatie van Henry Purcells "Dido Lament", een echt hoogtepunt op het album. Deze versie van de aria is adembenemend, met een schitterende samenwerking tussen de sopraan, het koor en het volledige orkest. Het andere koorstuk is "Mo Ergaste Forn", Murphy's originele compositie die een fictieve opera voorstelt, die duizenden jaren oud zou moeten zijn. Dit stuk is geweldig en je hoeft de film niet te zien om hiervan te genieten. Het is de kers op de taart van een uitstekende score.
Luisteren of kopen
Lijst van de nummers
De hoogtepunten zijn vetgedrukt.
Kits (1:35)
Warlock vs. Guardians (3:47)
That Hurts (1:35)
Batch 89 (1:46)
Orgoscope (1:42)
Mo Ergaste Forn (2:31)
Orgoscope Elevator (1:26)
Naming (2:25)
Dido's Lament (3:57)
Hooray Time Forever! (2:22)
It Really Is Good to Have Friends (2:26)
Exploding Planet (1:23)
Face Off (2:38)
Into the Light (4:29)
Guardians vs. Hell Spawn (3:38)
Mantis and the Abelisk (1:10)
Use Your Heart Boy (0:53)
The High Evolutionary (2:56)
Domo! Domo! (3:48)
Who We Are (2:20)
Stampede (1:54)
Did That Look Cool? (2:44)
On the Spaceport (1:47)
I Love You Guys (2:15)
Mo Ergaste Forn (full version) (3:23)
All Life Has Meaning (2:01)
Duur: 1 uur en 3 minuten
Hollywood Records (2023)