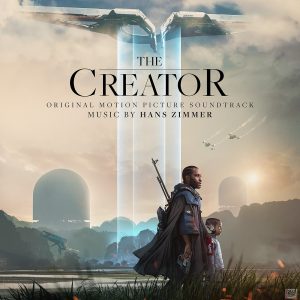 Een van de concepten die de wereld heeft veroverd is de ontwikkeling op het gebied van kunstmatige intelligentie (K.I.). Het begrip kunstmatige intelligentie is niet nieuw. Het bestaat al tientallen jaren, maar met de opkomst van ChatGTP en andere online applicaties is het toegankelijker geworden voor dagelijks gebruik voor een grotere groep mensen. Naast muziekrecensent, ben ik ook softwareontwikkelaar en ik heb een aantal gedachtes over de kansen en de bedreiging die K.I. kan vormen voor een componist. Misschien schrijf ik er nog wel een keer er een essay over. De reden waarom ik K.I. ter sprake breng is dat het een sterke connectie heeft met de onlangs uitgebrachte film The Creator, geregisseerd door Gareth Edwards. Ten eerste is de film een Sci-Fi film die zich richt op het klassieke concept van K.I., dat robots zelfbewust en een nieuwe levensvorm zijn geworden. Ten tweede, en dat is voor mij het meest interessante, heeft Edwards geprobeerd om door middel van K.I.  muziek te laten genereren in de stijl van wat Hans Zimmer zou hebben geschreven. Blijkbaar was dat niet succesvol genoeg en werd Hans Zimmer zelf benaderd om de muziek voor de film te componeren.
De muziek die te horen is, is korter dan ik had verwacht voor een meer dan 2 uur durende Sci-Fi actiefilm, met slechts 44 minuten muziek op het album. Hoewel de film over een oorlog tussen mensen en androïden gaat, ligt de nadruk meer op de relatie tussen een menselijke oorlogsveteraan en een jong kunstmatig kind, wat terug te horen is in de muziek. Er zijn veel momenten zonder muziek omdat de emoties op het scherm voor zich spraken, en veel bestaande liederen werden ook in de film gebruikt. Als je Zimmer's muziek wel kon horen, was dat meestal zonder de krachtige klanken die hij de laatste tien jaar graag heeft gebruikt. De score voor de film is vrij emotioneel en orkestraal. Het deed me denken aan de Hans Zimmer van 20 jaar geleden, met zijn muziek voor King Arthur als uitstekend referentievoorbeeld.
Ik ben erg nieuwsgierig naar de muziek die door de kunstmatige intelligentie is bedacht voor The Creator. Gewoon om te horen hoe Hans Zimmer het had overtroffen met zijn muziek, maar we hebben het hier natuurlijk wel gewoon over Hans Zimmer. Veel componisten hebben geprobeerd muziek in zijn stijl te schrijven, en hoewel sommigen zijn stijl dicht benaderen, kan geen van hen het op zijn niveau, zoals hij nu weer toont met zijn muziek voor The Creator. Wat ik zo mooi vind aan de score is dat er zo weinig van terug te vinden is in de film. Soms hoor je zijn geluiden subtiel op de achtergrond ter ondersteuning, en wanneer de muziek prominent aanwezig mag zijn, is het er met overgave, zoals alleen Hans Zimmer dat kan. Daarom zijn de nummers "Standby" en "Missile Launch" veruit mijn hoogtepunten op het album, met hun magnifieke emotionele opbouw. Ik denk dat het nog vele decennia zal duren voordat kunstmatige intelligentie ook maar in de buurt komt van het niveau van Zimmer's muziek, en ik ben ervan overtuigd dat het hem nooit zal kunnen overtreffen.
Luisteren of kopen
Lijst van de nummers
De hoogtepunten zijn vetgedrukt.
They're Not People (2:19)
A Place in the Sky (2:25)
Where It All Began (4:11)
Surrounded (2:34)
She's Not Real (2:12)
Standby (6:11)
Missile Launch (3:01)
Prayer (2:47)
The Wounded (3:08)
Lab Raid (4:31)
Heaven (6:57)
True Love (3:30)
Total length: 43 minutes
Hollywood Records (2023)