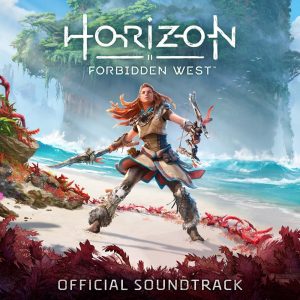 Een van de videogamesoundtracks die de meeste indruk op me heeft gemaakt sinds ik Soundtrackwereld heb opgericht, is de muziek voor Horizon: Zero Dawn. Allereerst was ik verbijsterd om de rustgevende stem van Julie Elven, die magnifiek te horen is in "Aloy's Theme" op die soundtrack. Maar mijn grootste verrassing was dat het grootste deel van de muziek is gecomponeerd door Joris de Man, een Nederlandse componist die ik niet eerder kende. De muziek voor Zero Dawn is erg goed ontvangen, en daar sta ik volledig achter. Ik heb "Aloy's Theme" zelfs uitgeroepen tot nummer van het jaar in 2017.
Omdat Zero Dawn zo'n succes was voor het Nederlandse gamebedrijf Guerilla Games was het logisch dat er een vervolg aangekondigd werd – Horizon: Forbidden West. De Man keerde terug om de muziek te schrijven en net als bij het vorige spel, dat zich ook in een grote open wereld afspeelde die veel verschillende muziek vereist, kreeg hij hulp van nog andere componisten. Niels van der Leest en het componistenduo The Flight keerden terug voor het vervolg, maar er werd ook een nieuwe componist geïntroduceerd voor de Horizon-franchise, Oleksa Lozowchuk.
Met vier cd's was het soundtrackalbum voor Zero Dawn al omvangrijk. Voor Forbidden West gingen de componisten zelfs nog verder door een digitaal album uit te brengen, verdeeld in zes delen, met daarop meer dan zeven uur aan muziek. Een uitgebreide recensie over de score schrijven zou me vele dagen kosten en daar heb ik helaas de tijd niet voor. Voor deze recensie zal ik meer algemene indrukken geven in plaats van in alle details te duiken.
Het eerste wat me opviel op dit album is dat het algemene muzikale gevoel ongeveer hetzelfde is als bij het eerste spel. De soundtrack bevat mooie melodieën, uitgevoerd met enkele strijkinstrumenten, fluiten, synthesizers en natuurlijk Julie Elven's stem. Ik heb altijd genoten van haar uitvoering van "Aloy's Theme" uit Zero Dawn en ik was blij om daar een nieuwe versie van te horen in Forbidden West. Deze versie is rijker, met meer instrumenten aangevuld met synth-elementen.
Elven is daarentegen niet de enige zangeres voor deze muziek. Er zijn ook veel nummers te vinden met de heerlijke stem van Melissa R. Kaplan. Een van mijn favoriete nummers is "Trinity", waarin Elven en Kaplan beiden in perfecte harmonie zingen. De nummers waarin zij meewerken, zouden waarschijnlijk niet zo geweldig zijn als de muziek niet goed gedaan was. De meeste van de meer melodieuze werken op het album zijn gecomponeerd door De Man en Lozowchuk, maar Van der Leest, die meer percussie-gerichte nummers componeerde voor het eerste spel, heeft wat meer melodieus materiaal geschreven, gebruikmakend van andere instrumenten dan percussie. Het componistenduo The Flight richtte zich weer meer op de elektronische kant van de muziek.
Naast het thema voor Aloy, herkende ik nog andere thema's. Er zijn er waarschijnlijk nog een paar meer, maar met zeven uur muziek zou dat zoeken naar een speld in een hooiberg zijn. Het meest herkenbare thema voor het nieuwe spel is te horen in het nummer "In the Flood", dat is gecomponeerd door Lozowchuk en wordt gezongen door Ariana Gillis in één versie en door Lovisa Berghal in een tweede. Een instrumentale versie is te horen in "The Crossing".
Het eerste spel had een paar koorstukken die ik goed vond. Dat koor keert niet terug, maar een ander koor is te horen in Forbidden West, zoals in "As Before, We Are" uitgevoerd door Musica Intima en opnieuw gecomponeerd door Lozowchuk. In "Infinite Circle" en "Sacred Decay," neemt The Flight een klein deel van het stuk over en integreert het in elektronische soundscapes.
Het laatste thema dat ik wil noemen, was ook een van de hoogtepunten uit Zero Dawn: het Meridian-thema van De Man. Je kunt het horen terugkeren in "Savior of Meridian" in een langzamere en een meer elegante versie. In "Alone Again" is een verkorte versie van het thema te horen, uitgevoerd door een cello en een viool.
Het is moeilijk voor mij om mijn mening te geven over wat ik van de gehele score van Forbidden West vind. De muziek bevat vele schitterende nummers, maar er is ook veel opvulmuziek die niet zo interessant is om naar te luisteren zonder de context van het spel, waardoor het voor mij moeilijk is om alle fraaie muziek aan te duiden. Terwijl ik naar de zeven uur aan muziek luisterde – verdeeld over meerdere dagen – viel het me op dat de mooiere melodieën aan het begin van het album te vinden zijn en de muziek wordt na verloop van tijd minder interessant als je verder luistert. Het latere deel van het album kan echter niet helemaal worden genegeerd, aangezien sommige van de nummers die ik heb genoemd in dit gedeelte te vinden zijn.
Veel muziekliefhebbers willen een album graag van begin tot einde beluisteren, wat voor deze soundtrack niet echt haalbaar is. Een spel als Horizon heeft vele uren muziek nodig en voor fans is dit album waarschijnlijk fantastisch. Ik zou graag meer een samengestelde lijst willen zien van alle glorieuze muzikale hoogtepunten uit het spel van hooguit twee uur. Ik zou zo'n album meteen kopen. Ik denk dat het een betere showcase zou zijn van hoe geweldig de muziek voor Horizon: Forbidden West is.
Luisteren of kopen
Lijst van de nummers
De hoogtepunten zijn vetgedrukt.
1 Joris de Man
2 Oleksa Lozowchuk
3 The Flight (Joe Henson and Alexis Smith)
4 Niels van der Leest
Deel 1
Whatever Comes (feat. Julie Elven & Melissa R. Kaplan) (3:09)2
Aloy's Theme – Forbidden West (feat. Julie Elven) (3:28)1
In the Flood (feat. Ariana Gillis) (3:10)2
The World on Her Shoulders (feat. Julie Elven) (3:40)1
Echo of You (feat. Melissa R. Kaplan) (4:02)2
Unity (3:44)3
Mother of All (feat. Julie Elven) (3:45)1
Shelter from the Storm (5:20)1
Built to Kill (2:58)2
Rusted Sands (4:18)2
Guardian of the Deep (feat. Julie Elven) (3:17)2
No Footfalls to Follow (3:13)2
Look Deeper (feat. Julie Elven & Melissa R. Kaplan) (1:27)2
Trinity (feat. Julie Elven & Melissa R. Kaplan) (1:55)2
As Certain as Stone (feat. Julie Elven & Melissa R. Kaplan) (3:43)2
These Stones Unturned (3:46)1
The Wings of the Ten (feat. Julie Elven) (2:03)3
Second Chance (3:46)3
This Place, This Moment (feat. Julie Elven) (2:13)1
Resilience to Rise (feat. Julie Elven & Melissa R. Kaplan) (2:25)2
In the Flood (Lovisa's Version) (4:13)
Deel 2
A Promise to Uphold (feat. Julie Elven) (4:18)1
Restless as the Weald (2:54)1
The Trail We Leave Behind (3:41)2
Edge of the Sundom (3:23)4
A Steady Breath (feat. Julie Elven) (3:02)1
Adrift (2:54)1
Off the Trail (3:02)1
Restricted Access (3:21)3
Wither and Ache (4:01)4
The Chorus (2:34)2
Solace Beneath the Stars (4:31)2
A Scattered Reflection (2:49)3
Machine Made (3:37)3
Figments of Time (3:51)1
Riddles in Ruins (3:51)3
Steel Bones (2:45)4
Marvels Below (2:32)2
By Choice, by Fate (feat. Julie Elven) (7:08)2
Deel 3
The Strength to Make a Stand (feat. Julie Elven & Melissa R. Kaplan) (2:00)1,2,3
Her World, Her Legacy (feat. Julie Elven) (1:56)1
Always Left Alone (feat. Julie Elven) (1:22)1
A Gift Shared (feat. Julie Elven) (3:41)1
Reclaimed by the Wilds (2:49)3
All Fall Down (1:10)3
The Long Road Back (2:15)1
Savior of Meridian (2:35)1
Vigilance (2:44)3
A Signal in the West (2:06)3
Alone Again (0:51)1
Valley's Descent (2:57)
Clear the Way (3:02)1
Spark and Flame (2:12)1
A Wager Over Barrels (2:13)4
Forged for the Fight (1:25)1
By the Cold Light of Stars (2:52)1
The Way to Barren Light (1:39)1
In All Its Splendor (4:02)1
Lost in the Keg (4:08)2
Commander's Orders (1:45)2
Storming the Gates (2:13)2
Born in Blood (4:21)3
Bloodied and Broken (2:57)3
The Embers in Our Wake (5:52)2
Alone Before the World (4:45)1
Dawn Eases Night (2:51)1
The Sky Remade (3:29)3
Shattered Metal (1:30)3
Solitude's Shore (1:25)3
Deel 4
As Verdant Limbs Wither (4:25)2
Gravesinger (6:35)2
Silhouettes (3:59)2
As Before, We Are (feat. musica intima) (5:46)2
Echoes of Plenty (2:59)4
Infinite Cycle (2:15)3
Sacred Decay (3:15)3
Glyphs of Light (2:17)2
The Corner of Your Eye (2:44)1
Defenders of the Sky (4:09)4
Blood Shed on Stone (2:50)1
Pride's Fall (3:23)3
Strike from the Sky (2:37)3
All Will Be Run Red (3:04)3
Delver's Dream (2:48)2
Showtime (1:42)2
Night Life (2:02)
The Way of the Desert (3:43)4
The Diviner (2:00)2
The Eye That Reveals (2:07)2
Every Secret, a Maze (3:15)2
The Time of Ashes (4:59)2
Ancestor Reborn (3:45)2
Deel 5
Mutually Assured Destruction (1:46)3
Eternal Conceit (4:39)3
A Whispered Plea (1:33)3
237 (feat. Melissa R. Kaplan) (2:57)2
Time Twisted Around Metal (3:24)3
Where the Wanderer Goes (3:14)2
The Crossing (feat. Ariana Gillis) (1:36)2
Legacy's Landfall (4:17)4
Pride of the Expedition (4:20)1
Entombed (4:55)1
Scraped from Salt and Rust (4:07)3
A Quiet Strength (3:27)3
Look Deeper (feat. Julie Elven & Melissa R. Kaplan) (Extended Version) (7:06)2
Gemini (feat. Ariana Gillis) (3:59)2
Contingency 13-F (3:15)3
All That Remains (6:32)2
Reunion (3:16)1
What Looms Ahead (4:08)3
Singular Purpose (2:39)3
Point of No Return (3:36)3
Unshackled (2:02)1
Regalla Reigns (1:09)3
Breached (3:23)1
This Place, This Moment (feat. Julie Elven) (Extended Version) (4:57)1
Deel 6
Storm on the Rise (2:36)1
Shoulders of Giants (3:02)2
Rust and Risk (2:34)3
Coiled Strike (2:14)2
Rifts and Ruptures (5:30)2
In the Dust, to the Death (4:10)3
Hollowed Out (3:33)3
Drowned and Gone (2:17)2
Search and Destroy (3:41)2
Rumors in the West (3:29)3
Sudden Surge (2:14)3
Ride the Edge (3:17)4
Rebel's Rage (3:39)3
Blade on Blade (1:58)1
Where None Should Tread (5:20)2
Primal Steel (2:15)2
Claws in the Hollow (2:25)2
Sharpened Instinct (2:12)3
Imperator (3:05)3
Show Her Our Teeth (2:46)4
No Delve Without Danger (3:22)3
Far From Rest (2:58)1
Steel the Mind (3:03)2
The Edge of Battle (2:02)2
The Pride of the Arena (2:29)4
Rise Above Ruin (3:41)3
Duur: 7 uur en 36 minuten
Sony Classical (2022)