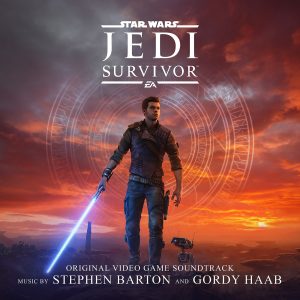 De meeste succesvolle computerspellen krijgen een vervolg. Voor de meeste gamers is dit een traktatie: omdat ze een van hun favoriete spellen opnieuw kunnen spelen. Deze vervolgen worden ook boeiend wanneer een spel al een fantastische score heeft en de oorspronkelijke componisten terugkeren voor het vervolg. Dat is de afgelopen jaren al vaak gebeurd, met de muziek voor Ori, A Plague Tale en God of War als perfecte voorbeelden. Als je mijn recensie van de muziek voor Star Wars Jedi: Fallen Order hebt gelezen, kun je je voorstellen dat ik erg uitkeek naar de muziek voor Star Wars Jedi: Survivor. De soundtrack voor de tweede game in het Star Wars Jedi universum, die het verhaal van de jonge Jedi Cal Kestis en vrienden voortzet, is opnieuw gecomponeerd door Stephen Barton en Gordy Haab. Vooral Barton's naam weer te zien is opwindend voor mij, aangezien hij onlangs nog meer bekendheid kreeg door verbluffende muziek te schrijven voor de andere space adventure wereld: Star Trek: Picard.
Net als bij zijn voorganger is er veel muziek te verwerken op het soundtrackalbum voor Survivor. Waar Fallen Order 'slechts' ruim drie uur aan muziek had, overtreft Survivor dat zelfs met bijna vier uur. Veel personages uit de eerste game keren terug voor het vervolg, evenals hun thema's. Helaas vond ik op dit album geen nummers die puur gewijd waren aan nieuwe of bestaande thema's, zoals voor Fallen Order, waardoor het moeilijk is om de nieuwe thema's grondig te bestuderen. Dat betekent niet dat deze thema's niet aanwezig zijn, want dat is zeker niet het geval. Vooral in de eerste helft van de score hoor je in bijna elk nummer hints naar het schitterende Cal Kestis-thema.
Niet alleen thema's voor Kestis zijn aanwezig, ik hoorde ook hints naar andere thema's, maar ze zijn als een naald in een hooiberg in een vier uur durende score van orkestraal genot. Een grondige analyse van meer dan 15 uur gameplay is ook niet te doen met de tijd die ik heb. Er is één extra thema dat ik moet noemen, dat bedoeld is voor de machtige Nightsister Merrin, die ook in dit vervolg een belangrijke rol speelt. In één scène van het spel toont ze haar potentie terwijl zij en Kestis tegen een gigantische machine vechten en haar thema is glorieus en krachtig tijdens die specifieke scène. Je kunt de muziek terug horen in "Flight", wat zeker een van de hoogtepunten van de score is.
De muziek voor Star Wars Jedi: Survivor is opnieuw een fantastische score voor een Star Wars-franchise. Het heeft wat muzikale invloeden van de bekende films, met krachtige uitbarstingen in de kopersectie en soms met fraaie, emotionele melodieën, maar je hoort ook de originaliteit van twee grootse componisten. Er is wel een klein voorbehoud. Hoewel de meeste muziek perfect in het spel past, is het geen gemakkelijke luisterervaring, met alle verschillende muzikale patronen en uitbarstingen van het koper die in elkaar overlopen. Zeker als je vier uur score te beluisteren hebt, kan dat een hele uitdaging zijn. Als de muziek zou zijn ingekort tot een meer geconcentreerd pakket met meer hoogtepunten, had dat zeker geholpen. De soundtrack is perfect voor zo'n snel spel, maar ik zal waarschijnlijk meer naar de losse nummers van de voorganger luisteren dan van Survivor. Behalve het nummer "Flight" natuurlijk, want dat is gewoon puur goud.
Luisteren of kopen
Lijst van de nummers
De hoogtepunten zijn vetgedrukt.
Dark Times (5:54)
The Undercity (8:45)
Crash Landing (5:22)
A Frontier Welcome (3:15)
The Bedlam Raiders (5:10)
Where the Nekkos Roam (5:01)
Beast's Maw (2:26)
Phon'Qi Caverns (2:06)
Rambler's Reach (3:56)
Gen'Dai (1:13)
Beneath the Cantina (7:49)
The Forest's Secret (7:06)
Basalt Scars (2:27)
Garrison (3:31)
Haven (5:54)
Release Me (4:24)
Desert Ruins (4:59)
The Ancients (3:52)
Into the Storm (5:22)
Fields of Dusk (Orchestral Version) by TARTAN (4:41)
Campfire (3:13)
The Narkis Anchorites (4:04)
Unforgiving Sands (8:02)
Pilgrim's Path (4:40)
The Sacred Mesa (8:57)
Trident (6:05)
Flight (3:25)
Relics of War (8:38)
To the Rescue (2:31)
Shattered Moon (9:50)
Course Collider (5:54)
Warrior's Code (7:08)
Mogu in the Mist (6:14)
Above the Clouds (6:36)
Grand Oculus (7:12)
A Step Too Far (10:05)
Siege (3:07)
The Visitor (10:08)
Nova Garon (4:01)
Rage (5:27)
The Abyss (4:36)
Brothers (5:17)
Through Darkness (5:35)
Cold Dawn (3:32)
Duur: 3 uur en 57 minuten
Walt Disney Records (2023)