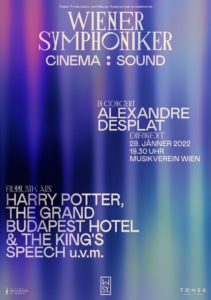 De veelvuldig bekroonde Hollywood-componist Alexandre Desplat keert op 29 januari 2022 terug naar Wenen om een selectie van zijn bekroonde filmcomposities te dirigeren in de Grote Zaal van de Wiener Musikverein als onderdeel van CINEMA:SOUND!
Het publiek kan een muzikale reis verwachten uit films als The Grand Budapest Hotel, Harry Potter, Benjamin Button en The King's Speech.
Kaartverkoop begint op 12 oktober om 11:00 uur via https://www.wienersymphoniker.at, https:///www.musikverein.at, https://www.tomekproductions.com of https://www.oeticket.com.