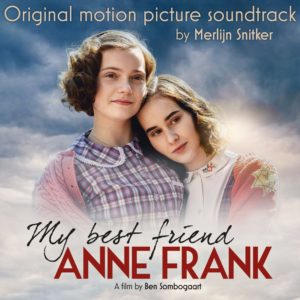 Net als in vele Europese landen, was de Tweede Wereldoorlog verschrikkelijk voor de mensen die toen in Nederland woonden en er zijn vreselijke verhalen over die periode te vertellen. Een van de beroemdste, die zelfs over de hele wereld bekend is, is het verhaal over het Joodse meisje Anne Frank, die zich schuilhield voor de nazi's in het net zo beroemde Achterhuis, waar zij haar dagboek schreef. Er zijn enkele films gemaakt die haar trieste verhaal vertellen, maar geen enkele daarvan was een Nederlandse productie. Blijkbaar zijn er in het verleden wel Nederlandse televisieseries over haar gemaakt, maar het duurde tot 76 jaar na de oorlog voordat de eerste Nederlandse film in de bioscoop verscheen met Mijn Beste Vriendin Anne Frank (Engelse vertaling: My Best Friend Anne Frank).
De film is gebaseerd op het waargebeurde en heftige verhaal van Hannah Goslar, een goede vriendin van Anne. Ik kan me voorstellen dat het schrijven van de muziek hiervoor een uitdaging was en het kwam voor mij dan ook niet als een verrassing dat de opdracht aan Merlijn Snitker werd gegeven, een bekende en ervaren componist met al vele Nederlandse televisieseries en films op zijn naam, waaronder Het Verlangen en Bankier van het Verzet, een andere Tweede Wereldoorlog-film
Het 40 minuten durende album voor My Best Friend Anne Frank bevat 16 nummers en in veel daarvan wordt de muziek gespeeld door een strijkersensemble, soms vergezeld door extra instrumenten zoals de piano of de harp. Wat me in de muziek aanspreekt, zijn de fraaie emotionele melodieën en patronen, maar wat ik het mooiste eraan vind is hoe natuurlijk en menselijk ze klinkt. Iemand vertelde me nog niet zo lang geleden dat een snaarinstrument zoals een viool naast de stem het meest menselijk klinkend instrument is. De reden daarvoor is de manier waarop het instrument wordt bespeeld, met een strijkstok en het maken van vibrato's met de vingers. Het is iets dat niet echt kan worden gedaan met kunstmatige klanken en het voegt een extra laag van emotie toe aan de film. Perfecte voorbeelden van wat ik bedoel zijn de schitterende cello solo, die te horen is in "My Best Friend Anne Frank" en in "God Knows All But Anne Knows Better" en het piano en viool duet in "Family Goslar".
In Nederland worden veel soundtracks voor films en televisie niet uitgebracht, dus ik ben heel blij dat dit niet het geval is voor de muziek die Merlijn Snitker schreef voor Mijn Beste Vriendin Anne Frank. Deze intieme en gevoelige score past perfect bij het verhaal over de twee Joodse meisjes Anne en Hannah en zou in Nederland, maar ook daarbuiten, te horen moeten worden.
Luisteren of kopen
Lijst van de nummers
De hoogtepunten zijn vetgedrukt.
My Best Friend Anne Frank (5:51)
The Ring (1:14)
What Would Hannah Do (3:08)
Family Goslar (2:39)
Hannah and Anne (2:03)
True Love (2:18)
Hanneli Wait, Come Back (3:38)
Sweet Dreams Papa (2:15)
The Secret Annex (2:03)
The Whistle (1:27)
Inspection (2:25)
Mother (1:01)
The Fence (2:26)     
Call The Doctor (1:35)
Throw Hannah Throw (2:08)
God Knows All But Anne Knows Better (2:41)
Duur: 39 minuten
Riva Media Records (2021)