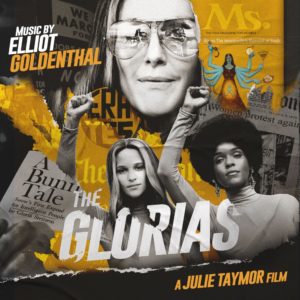 Het was een aangename verrassing toen ik erachter kwam dat componist Elliot Goldenthal weer muziek voor een film had geschreven, wat de afgelopen tien jaar een zeldzaamheid was. Deze keer componeerde hij de muziek voor de film The Glorias, door Julie Taymor geregisseerd, met wie hij al tientallen jaren een relatie heeft. Een ander genoegen voor mij is het feit dat Goldenthal ook bekend staat om het schrijven van zeer onconventionele muziek, niet alleen voor films, maar ook voor toneelstukken, opera's en ook concertwerken. Het meeste van zijn recente werk is niet gemakkelijk om naar te luisteren. Er wordt veel geëxperimenteerd, maar ik heb zijn muziek altijd interessant en intrigerend gevonden. Als kers op de taart had ik de eer om in 2018 met hem te mogen spreken, waarbij ik een kleine glimp van zijn creatieve geest te zien kreeg.
De muziek voor The Glorias is niet wat ik verwacht had. In plaats van wilde experimentele geluiden is de meeste muziek vrij conventioneel, maar dan wel in allerlei muziekstijlen. Op dit 36 minuten durend album hoor je rustgevende jazz, nummers met gitaren, vrolijke deuntjes en een orkeststuk als finale. Als je de film bekijkt, begrijp je waarom er voor deze stijlen is gekozen. Het is een biopic over feministe Gloria Steinem, waar vier actrices de rol van Gloria spelen in verschillende stadia van haar leven en de meeste muziek is er om de scènes van sfeer te voorzien. Als je goed luistert, zijn er twee terugkerende thema's te vinden op de soundtrack. Eén thema is voor Gloria en het is te horen in het eerste nummer "The Greyhound". Het tweede thema is voor haar vader en is te horen in het tweede nummer "Steinemite Jukebox".
Er zijn ook enkele momenten in de muziek, waarbij Goldenthal zich van zijn experimentele en explosieve kant laat horen. "The Witch's Brew" is een chaotisch klinkend orkeststuk, met een saxofoon die daarover wilde muzikale patronen schreeuwt en in "Treadmill Agitato" hoor je door de strijkers gespeelde snelle patronen, met een gitaar die daar wat noten overheen speelt.
De beste manier om de muziek te beschrijven is door het te vergelijken met een schilderij. Ik verwachtte iets heel expressief, met felle kleuren en wilde patronen, maar in plaats daarvan kreeg ik een prachtig plaatje van een schitterend realistisch uitziend vallei, geschilderd door een meester. De muziek voor The Glorias voldeed niet aan mijn verwachtingen, maar het is een perfecte onderlijning voor de film. Als je goed luistert, hoor je de thematische ideeën goed geïntegreerd in de muziek – het werk van een echte meester.
Luisteren of kopen
Lijst van de nummers
De hoogtepunten zijn vetgedrukt.
The Greyhound (2:12)
Steinemite Jukebox (1:10)
Her Solitudes (3:22)
Jaipur Station (1:24)
Leo's Days (1:21)
Choice Now! (1:58)
The Witch's Brew (1:59)
Passing an Elegy (3:50)
Selectric (1:37)
Bella's Hat (1:37)
Slow Dance With Two (3:24)
A Torch Passed (2:09)
E.R.A. Now (1:19)
Treadmill Agitato (2:48)
Other Side of the Mountain (2:07)
We the People (3:57)
Duur: 36 minuten
Zarathustra Music (2020)