We konden in Nederland af en toe genieten van een concert door het International Symphony Orchestra of Lviv onder leiding van Raymond Janssen. Zij toerden voor deze concerten een paar weken door ons land en speelden muziek die mensen herkennen en die gemakkelijk te beluisteren is. Ik weet dat een van de programma's vooral gericht is op Carmina Burana van Carl Orff, een ander is een concert toegespitst op Star Wars, dat ik in Groningen heb bijgewoond, en ze hebben The Harry Potter Symphony concert. Ik had kaartjes voor die van Harry Potter, maar het duurde even voordat het evenement doorging. Dat kwam niet alleen door de pandemie, maar ook door de oorlog in het land waar het orkest vandaan komt, die daar nog steeds gaande is. Blijkbaar waren ze in december 2022 wel in staat hun tournee te doen, waarbij ik op een zondagmiddag hun Harry Potter concert in het World Forum in Den Haag bijwoonde.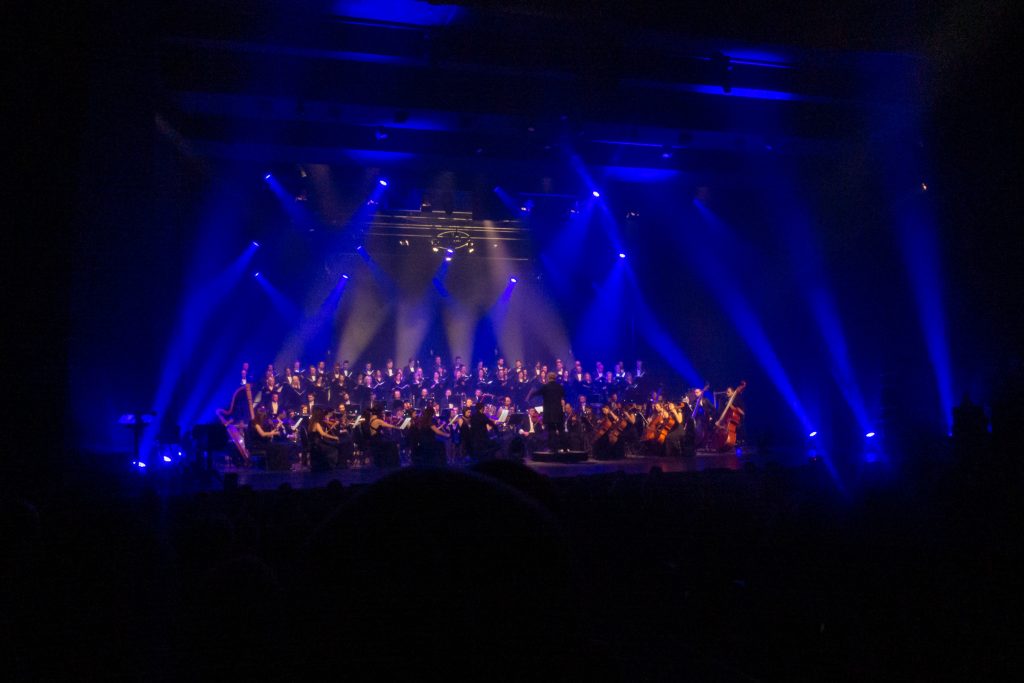 Het World Forum is een vrij grote zaal en ik was aangenaam verrast dat deze vol zat. Een van de redenen waarom mensen dit concert wilden bijwonen was voor meer dan de muziek alleen, want illusionist Christian Farla werkte ook mee aan de show.
Wat mij intrigeerde tijdens het Star Wars concert die ik bezocht had, was het gebruik van het koor om bestaande stukken zonder origineel koorpartij te verrijken, met "The Imperial March" als het voornaamste voorbeeld. Deze trend werd voortgezet in dit Harry Potter concert, zoals duidelijk werd in het eerste werk van het programma: "Hedwig's Theme", waarbij het koor enkele teksten zong samen met de hoofdmelodie.
Voor de rest van het concert konden we een voortzetting van dat concept zien: Het orkest voert een afzonderlijk nummer of een suite met de muziek uit een van de Harry Potter-films uit, waarbij het koor een extra element toevoegt. In de eerste helft konden we vooral naar de eerste films luisteren en in de tweede helft verschoof de aandacht meer naar de latere. Daardoor klonk het tweede deel serieuzer en somberder dan het eerste. Gelukkig hebben de duistere films enkele opbeurende nummers zoals bijvoorbeeld "The Weasley Stomp". Daarnaast hebben de organisatoren ook de muziek van de laatste film The Deathly Hallows Pt. 2 van helft verwisseld met de tweede film The Chamber of Secrets. Deze aanpassing zorgde voor een beter evenwicht tussen de luchtige en donkere emotionele muziek tijdens het concert.
Tijdens sommige stukken betrad illusionist Christian Farla het podium met zijn vijf assistenten om allerlei trucs uit te voeren. Hij liet voorwerpen door de lucht zweven of hij liet zijn assistenten uit kisten, kooien of kasten verdwijnen. Zijn acts waren ook zeer goed geïntegreerd met de muziek door het orkest. Alleen tijdens het stuk "Dumbledore's Farewell" klopte zijn act niet echt. De muziek vertegenwoordigt zo'n kritiek en emotioneel moment in de film en om dan een act te doen door iets in de lucht laten zweven, voelde niet op zijn plaats.
Het programma eindigde heel toepasselijk voor het seizoen met "Harry Potter in Christmas Time", een versie van het traditionele kerstlied "Carol of the Bells". We werden ook nog getrakteerd op één toegift en dat was nogmaals het chaotische maar leuke nummer "The Knight Bus".
De beste manier om de middag te beschrijven is dat ik op een aangename manier werd vermaakt. Iemand die van de originele muziek uit de Harry Potter-films houdt, zou een beetje in de war kunnen raken door de toegevoegde koorpartijen, maar omdat ik dat van tevoren wist, omdat ik hun Star Wars-concert had bijgewoond, vond ik dat niet zo erg. Wel was ik verrast door de illusionist. Van tevoren was aangekondigd dat Farla mee zou doen, maar op de een of andere manier had ik die informatie over het hoofd gezien. Ik had nog nooit een illusionist live zien optreden en het was intrigerend om te zien hoe hij op deze magische middag zijn 'magie' uitvoerde. Ook de ervaring van het orkest was goed te horen. Ze doen dit soort shows al een tijdje en de muziek was prima uitgevoerd. Hopelijk verbetert de situatie in Oekraïne. Ik kan me voorstellen dat het optreden van het orkest nog beter zou zijn geweest als de leden zich geen zorgen hoefden te maken over hun geliefden in hun thuisland. Deze mensen omarmen filmmuziek en ze verdienen meer dan dat.
Concertinformatie
Waar: World Forum – The Hague, the Netherlands
Wanneer: 18 december 2022
Orkest: The International Symphony Orchestra Lviv onder leiding van Raymond Janssen
Koor: The National Choir of Ukraine 'Dumka'
Illusionist: Christian Farla
Programma
Harry Potter and the Philosopher's Stone – John Williams

Hedwig's Theme
The Sorcerer's Stone
Harry's Wondrous World

Harry Potter and the Goblet of Fire – Patrick Doyle

Hogwarts' Hymn
Hedwig's Theme (John Williams)
Harry in Winter
Potter Waltz

Harry Potter and the Prisoner of Azkaban – John Williams

Witches, Wands and Wizards
Aunt Marge's Waltz
A Window to the Past
The Knight Bus
Double Trouble

Harry Potter and the Deathly Hallows, Part 2 – Alexandre Desplat

Courtyard Apocalypse
Battlefield

Harry Potter and the Goblet of Fire – Patrick Doyle
Pauze
Harry Potter and the Deathly Hallows, Part 1 – Alexandre Desplat

Obliviate
Polyjuice Potion
Harry and Ginny
Ministry of Magic
Obliviate
The Elder Wand
My Love Is Always Here

Harry Potter and the Chamber of Secrets – John Williams

Fawkes the Phoenix
Dobby the House Elf
Gilderoy Lockhart
The Chamber of Secrets

Harry Potter and the Deathly Hallows, Part 2 – Alexandre Desplat

Lily's Theme
Underworld
Dragon Flight
Neville
A New Headmaster
The Resurrection Stone
Showdown
A New Beginning

Harry Potter and the Order of the Phoenix – Nicholas Hooper

Another Story
Flight of the Order of the Phoenix
Professor Umbridge
Dumbledore's Army
The Room of Requirement

Harry Potter and the Half‐Blood Prince – Nicholas Hooper

The Story Begins
In Noctem
Wizard Wheezes
Ron's Victory
The Slug Party
Journey To The Cave
Dumbledore's Farewell
The Friends
The Weasley Stomp
Wizard Wheezes

Harry Potter in Christmas Time (variatie op "Carol of the Bells")
Harry Potter and the Prisoner of Azkaban – John Williams