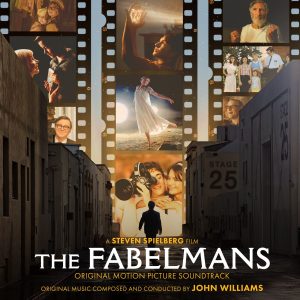 Hollywood kent vele duurzame samenwerkingen tussen mensen die aan een film werken, met als bekendste voorbeeld regisseur Steven Spielberg en componist John Williams. Ze werken al 50 jaar samen en hun 29e project, The Fabelmans, is hoogstwaarschijnlijk hun laatste. De film is officieel fictie, maar is losjes gebaseerd op Spielbergs persoonlijke ervaringen als jonge filmmaker. Zo'n verhaal lijkt in niets op een verhaal over buitenaardse wezens, dinosaurussen, avonturiers of grote fantasiewerelden. Deze afwijking is ook te zien aan de release van de film, want terwijl hij wereldwijd op verschillende plaatsen al uit is, zal de de film in Nederland pas begin 2023 uitkomen. Desalniettemin is het een soundtrack van John Williams – 's werelds belangrijkste filmmuziekcomponist – en daarom kan ik niet zo lang wachten om erover te schrijven.
Het album van The Fabelmans is verrassend kort, met slechts 31 minuten aan muziek, en daarbij horen enkele bestaande klassieke stukken die John Williams niet heeft geschreven. Wat wel door hem gecomponeerd is, is echter schitterend en afwijkend. Als ik aan Williams' muziek denk, denk ik aan zijn meesterlijke orkestrale filmmuziek. Desalniettemin is de muziek voor The Fabelmans intiemer, met voornamelijk een piano, strijkers en een handvol extra instrumenten. Een van de andere indrukwekkende sterke punten van Williams is het uitmuntend schrijven van thema's en er zijn twee hoofdthema's aanwezig in de muziek voor The Fabelmans. Het eerste is te horen in "The Fabelmans", fraai uitgevoerd op alleen de piano. Het tweede thema wordt uitgevoerd op een ander instrument dat klokgeluiden kan produceren. De melodie voor dat tweede thema wordt op dat instrument uitgevoerd en is te beluisteren in "Mitzi's Dance". Deze twee thema's zijn geweldig geïntegreerd in de rest van de muziek, met "The Journey Begins" als de afsluiting en het hoogtepunt van deze soundtrack.
Zoals gezegd is de muziek anders dan ik had verwacht, maar de intieme score voor The Fabelmans is echt een buitengewone afsluiting van de levenslange samenwerking tussen Spielberg en Williams. Ik vind het jammer dat deze score waarschijnlijk een van de laatste is die Williams zal gaan schrijven, maar omdat de muziek zo delicaat en tegelijkertijd persoonlijk klinkt, voelt het meer als een mooi en warm afscheid dan als een abrupt einde.
Luisteren of kopen
Lijst van de nummers
De hoogtepunten zijn vetgedrukt.
The Fabelmans (2:13)
Mitzi's Dance (2:05)
Sonatina in A Minor, Op. 88 No. 3: III. Allegro burlesco (1:51)
Midnight Call (2:23)
Reverie (1:44)
Mother and Son (2:28)
Sonatina in C Major, Op. 36 No. 3: Spiritoso (1:58)
Reflections (2:02)
Concerto in D Minor, BWV 974: II. Adagio (3:46)
New House (2:28)
The Letter (2:08)
The Journey Begins (includes excerpt from Joseph Haydn: Sonata No. 48 in C Major, HOB. XVI: 35: I. Allegro con brio) (6:08)
Duur: 31 minuten
Sony Classical (2022)